How to Read Nook Books on Kobo eReaders
More and more people prefer to read ebooks. The knowledge that once required a library to hold can now be condensed into multi-gigabyte ebooks, and everything can be presented with a digital device and located in a few minutes. However, as the saying goes, "there are two sides to everything", and ebooks is without exception. Despite a lot of conveniences that ebooks bring to people's life, they can create a series of annoying problems.
Nowadays most of the ebooks, especially those from Kindle, Nook, Kobo, and Adobe, are encoded in proprietary formats so that they all can be read on selected devices only. Take Nook book as an example, Nook book is a new EPUB file combined with DRM protection, which is created to stop users from taking books out of Barnes & Noble's website and then running away. So if you want to open Nook books on other eReaders, like Kobo devices, you are required to remove its protection at first. Here's how to remove DRM directly from B&N EPUBs and read them on Kobo devices.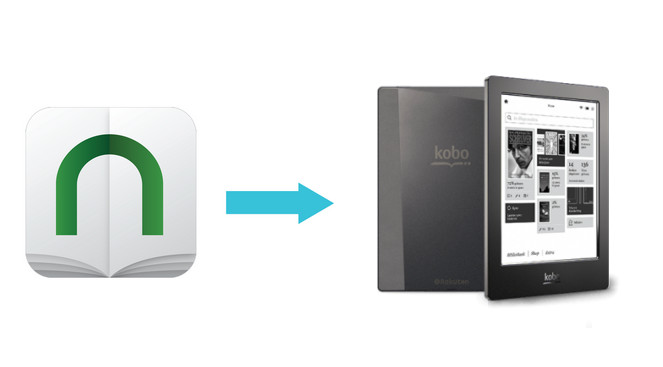 Any eBook Converter
To make Nook book readable on Kobo devices, Any eBook Converter is an indispensable tool. It is a top-rated eBook converting program, born to helping users bypass DRM restriction from protected eBook files. With built-in innovative DRM decryption technology, Any eBook Converter can easily remove DRM from Nook, Kindle, Adobe and Kobo eBooks, and convert them to various format, including EPUB, MOBI, PDF, AZW3, TXT and KFX.
Plus, it enables you to customize the eBook meta information, including title, author, publishing date, publisher and more according to your special needs. With the help of this smart tool, you can easily get DRM-free Nook eBooks, and read them on any devices, such as Kobo e-Reader, Amazon Kindle, and etc.
Support up to 24 input formats, such as EPUB, PRC, HTMLZ, etc;
Remove DRM from Kindle, Adobe, Kobo & Nook eBooks;
Convert eBooks to EPUB, MOBI, PDF, AZW3, TXT or KFX format;
Automatically Scan & Detect eReader;
Save / Edit metadata;
Support the latest version of Windows 10.
How to Open Nook Books on Kobo Devices
Any eBook Converter enables us to convert Nook books to PDF/EPUB/KFX/TXT/Mobi format with three simple steps, here we take PDF as an example and below is a demonstration of the whole process. Before we get started, please have the program well installed on your computer.

Step 1. Upload Nook eBooks to Any eBook Converter
Click "+" button on the upper left and there will be a pop-up window allowing you to browse and upload the Nook books that you want to remove the DRM from.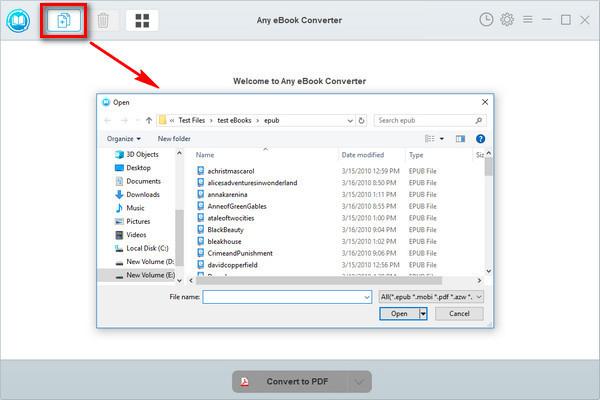 Step 2. Choose Output Format and Confirm Output Path
Click "V" icon on the bottom and select the output format - PDF. By clicking the "Settings" button on the upper right, you can customize the output path for the converted books.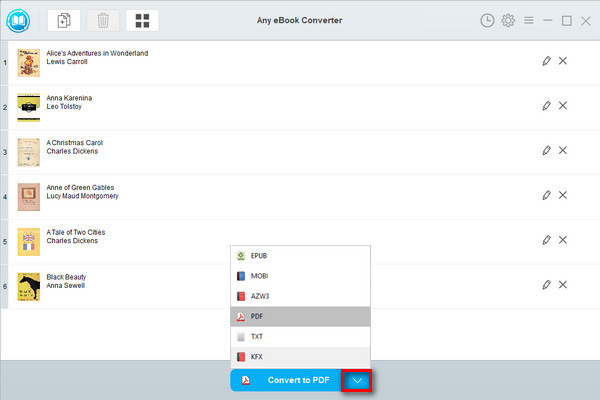 Note: By clicking the "Edit" icon on the right, you can edit all the important and useful meta information by yourself, including title, author, publisher, etc.
Step 3. Convert Nook Books to PDF
Click "Convert to PDF" button to start converting your Nook books to DRM-free PDF format.
When the conversion is done, you can find the converted Nook files by clicking the "History" button on the upper right or directly going to the output folder you set in the previous step.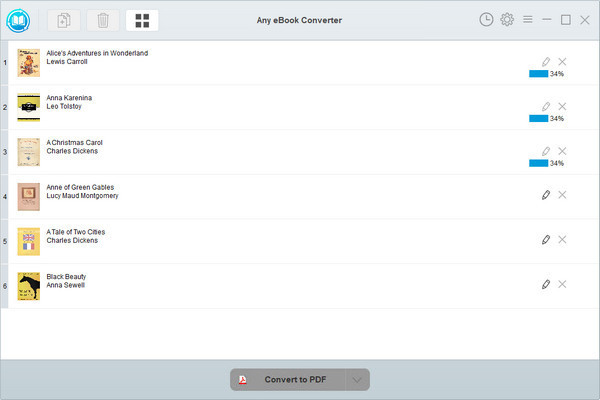 Now you've got your DRM-free PDF Nook books, you can connect your Kobo with computer and transfer those converted files to it for reading.
Any eBook Converter is powerful and comes with numerous wonderful features. With its help, you can not only read Nook book on Kobo devices, but also convert books from other sites for reading on more devices. The free trial version of Any eBook Converter enables us to convert one book at a time. If you'd like to unlock the amount limitation, please purchase the full version.