Tablet or E-reader: Which is the Right One for You?
If you love reading books, the question of "should I purchase a tablet such as iPad or an E-reader like Kindle" must come out from your mind constantly, because carrying paper books all around is not a smart choice as you can simply read them in a portable device nowadays. Although the question of whether to buy a tablet or an e-reader has been discussed a lot, the answer used to be very simple. In short, the price between a tablet and an e-reader is quite different, with e-readers coming out cheaper every time. If your primary motivation is for reading, then spending the extra money to acquire a tablet does not make any sense. On the other side, E-readers are single-purpose devices. There are very few things you can do with an E-reader other than reading. Nevertheless, only a detailed comparison can help you decide which one you should buy.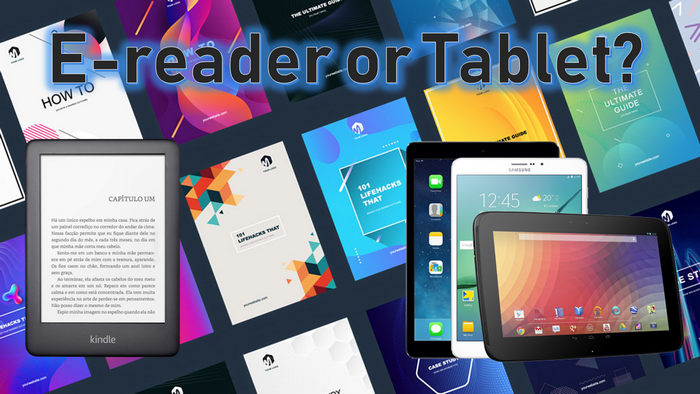 Why do you need an E-reader?
Price
Let's compare the most representative devices in each category, Kindle Paperwhite, and iPad. Kindle Paperwhite starts at $129.99 based on the price listed on Amazon Kindle, and the cheapest iPad 7th generation is for $329, which is almost 3 times more expensive than Kindle E-reader. By considering such a price gap, invest your money toward an E-reader might be a good choice if you only need a portable device for reading.
Vision care
This is the biggest advantage for an E-reader over a tablet by all means. We all know there is a negative impact to your eyes when watching electronic devices for too long, but the E-reader like Kindle Paperwhite is exclusively made for eye protection. Although E-reader is also an electronic device, the screens are purpose-built for hours of reading. E-readers like the Kindle Paperwhite or the Kobo Clara HD use edge lighting to produce a soft glow that has no harm to your eyes at all, and the screen itself uses a technology that makes your device seem like you are reading a paper book rather than an actual screen. So considering your eye health, try not to use a tablet for too much reading.
Battery life
If you want a device with a stellar battery for you to read comfortably for hours at a time, E-Reader must be a better choice. A battery for an E-reader could last one to two months, on average, compared with 10 hours at most for tablets.
Benefits of using tablets
Tablets work as the "low featured" computer, just like your laptop, but they rely on touch instead of a mouse and keyboards. If you use a cell phone at the most time and you are looking for a device with a bigger screen, a tablet like iPad would be beneficial for you, especially you have more tasks to perform other than reading.
There are a lot of things tablets can do but the computers probably can't, such as video recording and GPS navigation. Plus, free apps are available for all the major e-book services like Kindle and Kobo, all you need to do is download their official apps and login to your account and you will be able to read anything available in their libraries.
Which option should you go for?
Whether you go with an E-reader or tablet is mainly depending on what you want to do with the device, where you're going to use it, and what your budget allows. If your laptop is always with you, and you play games and browse the web with it or on your smartphone, you probably won't be missing out on anything by opting for an e-reader. If you are not focusing on reading a lot, a tablet would be a good choice.
Any eBook Converter
We know that eBook service providers like Amazon Kindle or Kobo Rakuten use proprietary format and cannot be easily transferred to other devices. But here we have a powerful tool to help you convert PDF to Mobi format and vice versa, which you can transfer your eBook files between devices and reading apps.
Any eBook Converter is an all-in-one ebook converter, which converts encoded eBooks to various formats, including EPUB, MOBI, PDF, AZW3, TXT and KFX effortlessly. It's based on high efficiency and easy-to-use interface and supports batch handling. You can convert several eBooks simultaneously. With this powerful eBook converter, you can easily convert Kindle or Kobo eBooks to PDF or EPUB, and read them on more devices without restriction. If you want to know how to convert eBooks from/to Amazon Kindle, read the articles How to Read EPUB Books on Kindle Oasis and Convert Kindle eBook to PDF for more detail.
Key Features of Any eBook Converter
Support up to 24 input formats, such as EPUB, PRC, HTMLZ, etc;
Convert eBooks to EPUB, MOBI, AZW3, PDF, TXT or KFX format;
Automatically Scan & Detect eReader;
Save / Edit metadata, including the author, publisher, etc;
Batch conversion allows you to convert entire eBook collection;
Support the latest version of Windows 10.
Note: The free trial version of Any eBook Converter enables us to convert one book at a time, you can unlock the amount limitation by purchasing the full version.