Kindle Unlimited vs Prime Reading: Which is Better?
Amazon Kindle is one of the largest eBook service providers in the eBook industry, their business isn't just performing as an online bookstore, but also providing the subscription service to the readers. Kindle Unlimited and Prime Reading are both services provided by Amazon that are designed for online digital book reading. You must be wondering about what are the similarities and differences between these two subscriptions. In this article, detailed information for each subscription will be introduced, including a full comparison between them.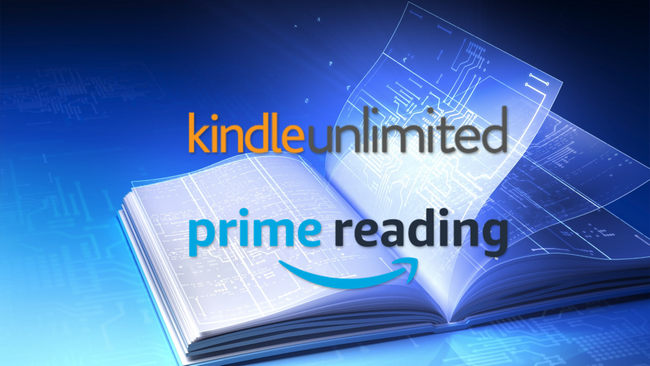 Kindle Unlimited
It is a standalone subscription-based service that gives unlimited access to over 1 million Kindle books, magazines, audiobooks, and other online materials. For Kindle Unlimited users, there are tons of books available to borrow from the site, and no expiration date will apply. The monthly fee is $9.99 with a 30 days free trial.
Amazon Prime Reading
This plan is a part of Amazon Prime subscription, check the Amazon Prime membership for more detail (multi-benefit subscription that costs $12.99 per month). It gives unlimited access to more than 1,000 Kindle books, comics, magazines, etc.
Major Differences
Kindle Unlimited is an independent digital reading subscription service provided by Amazon, which allows readers to access its extensive library of millions of books with a monthly subscription fee. In contrast, Prime Reading is simply one part of the Amazon Prime membership, which means it is not exclusively designed for online reading, and the number of accessible books is much less than the Kindle Unlimited. However, you must keep in mind that, the list of titles is rotating every month, new titles will be added to Prime Reading and some titles will be gone, which you will not get bored of the same materials.
Subscription Price
Kindle Unlimited costs $9.99 per month, you can access to the millions of titles you want. On the other hand, subscription for Prime Reading is $12.99 per month, but you can enjoy more services other than eBook, such as movies and music streaming, which are all included with the Prime plan.
Conclusion
In short, compared to countless Prime Reading titles, Kindle unlimited provides numerous titles, including books, magazines, comic books, and audiobooks, etc. Kindle Unlimited is a good choice for buying books from the Kindle Store, and Prime Reading seems to be a subset of Kindle Unlimited, with a relatively small number of titles. However, Prime Reading offers more services than Kindle Unlimited as being said, Prime Reading is designed for avid Amazon users who desire a more mainstream experience.
If you read eBooks from Amazon Kindle, you should know that the format generated from Amazon Kindle is AZW3, it is an eBook format used exclusively by Amazon's Kindle Store, and also has been the mainstream format to all new items from Kindle store. Because AZW3 is proprietary, it is not as widely supported on e-readers as EPUB. Naturally, all of Amazon's Kindle devices or applications can read the format of AZW3, but it is not supported by some other popular devices such as the Nook and Kobo e-readers. In this case, if you intend to make your Kindle AZW3 files readable on more devices, it's necessary to find a solution to convert these Kindle AZW3 files to a more widely-used format like EPUB or PDF. And luckily we have a powerful tool to help you convert the Kindle files to EPUB format, please keep reading the following tutorial for detailed methods of how to convert Kindle AZW3 book to EPUB format, so that you can enjoy them on more devices.
Any eBook Converter is an all-in-one ebook converter, which converts encoded eBooks to various formats, including EPUB, MOBI, PDF, AZW3, TXT and KFX effortlessly. It's based on high efficiency and easy-to-use interface and supports batch handling. You can convert several ebooks simultaneously. With this powerful ebook converter, you can easily get EPUB version of Amazon Kinlde ebook, and stream on more devices without restriction.
Key Features of Any eBook Converter
Support up to 24 input formats, such as EPUB, PRC, HTMLZ, etc;
Convert eBooks to EPUB, MOBI, AZW3, PDF, TXT or KFX format;
Automatically Scan & Detect eReader;
Save / Edit metadata, including the author, publisher, etc;
Batch conversion allows you to convert entire eBook collection;
Support the latest version of Windows 10.
Tutorial on How to Convert AZW3 to EPUB Format
Any eBook Converter enables us to convert Kindle AZW3 ebooks to EPUB format with three simple steps, and below is a demonstration of the whole process. Before we get started, please have Any eBook Converter well installed on your computer.

Step 1. Add eBooks to Any eBook Converter
Launch Any eBook Converter, the program will automatically recognize your existent books (synced via Kindle for PC). Drag the Kindle AZW3 books or click the "Add" button to import the books to the program.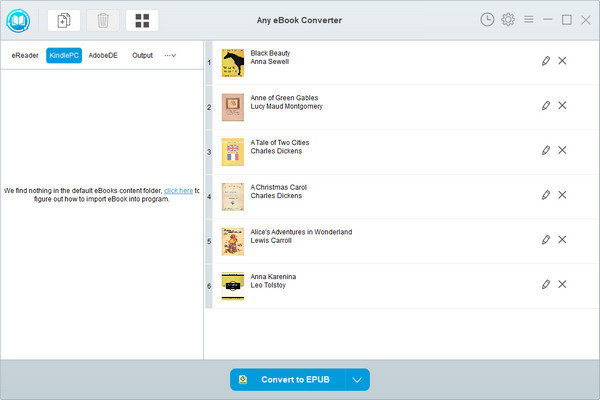 Step 2. Select EPUB Format
Click "V" on the bottom and choose "EPUB" as the output format. By clicking the "Settings" button on the upper right, you can customize the output path for the converted books.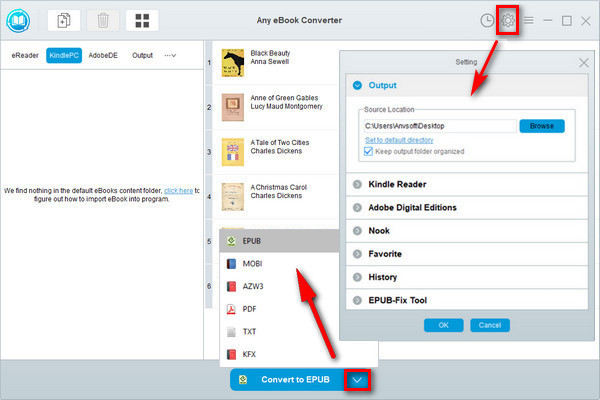 Step 3. Click "Convert to EPUB" button to Start Conversion
Click "Convert to EPUB" button to start converting your Kindle books to EPUB format. Once the conversion is done, the program will show you a successful status.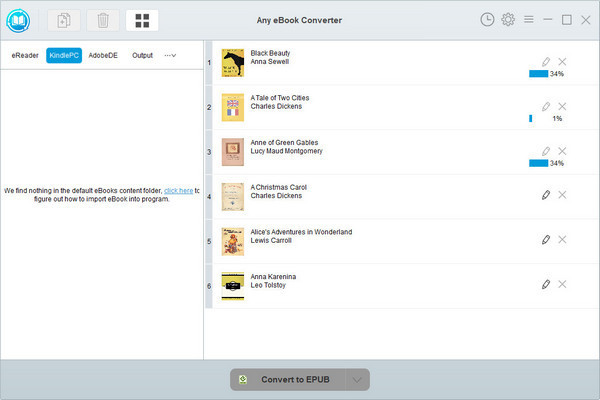 After conversion, you can click the "History" button on the upper right or directly going to the output path you set in previous step, you can find all the converted Kindle EPUB files in your local drive.
Note: The free trial version of Any eBook Converter enables us to convert one book at a time, you can unlock the amount limitation by purchasing the full version.